Recently we had to deal with a lenovo, equipped with a wifi adapter that could not reconnect, after laptop waking up from sleep mode. A reboot was required to make wireless adapter recover the problem. This frustrating issue occured in a lenovo ideapad 5 with the realtek rtl8852ae after a lenovo and windows update (2022, November). Apparently this was a wifi adapter driver problem in conjuction with laptop's power settings.
First, we have tested different combinations in power settings, but none of them worked. The most common resolution to these kind of problems is keeping adapter on, even laptop is in sleep mode. This option is usually available Device Manager > Apapter Settings > Power Management tab (see photo below), but this tab was not available in this realtek 8852. Below, you can see a picture of an Intel adapter, with this option available and on. If this is your case for and this option is availabe to you, try to turn it off to see if this resolves the problem. Unfortunately, this option was not available in the problematic ideapad,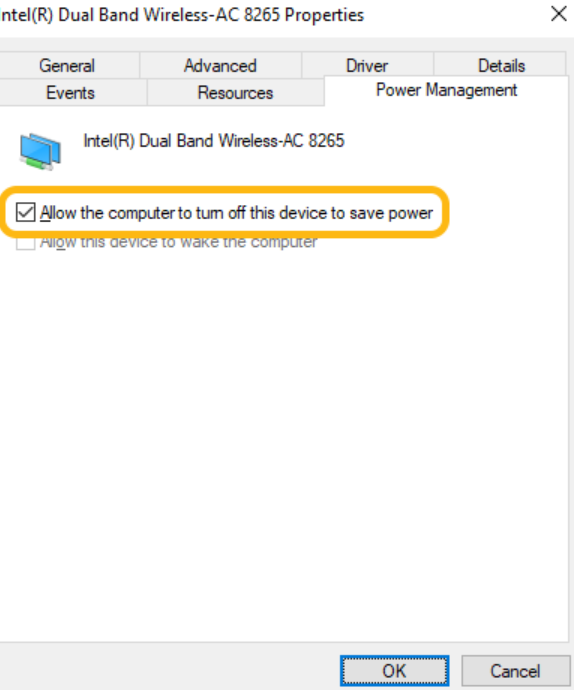 Until December Lenovo nor Microsoft had released un update resolving the issue, although the latest updates was already installed.
Finally, we were addressed to Lenovo support. We admit, they were very fast, but their advice to factory reset the device was not an option for us!
Resolution
We had to search other resources. First target was Realteks site. But Realtek has not published any adapters for 8852. If Realtek does not provide info for their adapter, who is? A google search for rtl8852ae, among other results directed us to Lenovo again, but this time, in its thinkpad series drivers section:
Realtek 8852AE WLAN Driver for Windows 11 (Version 21H2 or later), 10 (Version 20H2 or later) – ThinkPad E14 Gen 3, E15 Gen 3 – Lenovo Support CH
At first, it seemed irrelevant, but why not trying it? It was an October 2022 update for the same driver, of the same manufacturer. How different could it be?
Finally, we applied this driver update and it worked for a couple of hours. Thinkpad driver readme does not mention a direct resolution to power related issues. However it seems that the update includes cumulative fixes that the outdated 2021 Ideapad driver was missing.
Suddenly, a couple of hours later, the problem came up again. So, we had to focus again on how to prevent wifi from sleeping, so we've found this useful article:
Stay Connected to Internet in Sleep mode of Windows 10 / 11 – The Geek Page
Method 3, was our solution. But the problem is that gpedit is not enabled in windows 11 home edition.
So, firstly, we had to enable gpedit in our home edition. We've managed so thanks to this guide:
How to Enable Gpedit.exe in Windows 11 [Quick Guide] (windowsreport.com)
(we 've used the batch file method)